You are Oscar Wilde!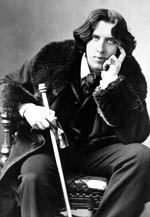 Charming and Witty. You are incredibly popular because of your wry and satirical sense of humor. You are also incredibly talented at writing, and pushing the conventional boundaries of your society.


Richtig!
Take the quiz:
What Militaristic Historical Figure Are You?
Richard the LionheartedHeavily involved in current task. Flexible, willing to compromise and reason.
Quizzes by myYearbook.com -- the World's Biggest Yearbook!
Auch richtig!
Aber bitte ohne Bart.